Solara Adjustable

The "smart" patio cover, manufactured by Solara, lets you enjoy the best of all worlds, all seasons. The patio cover is dynamic and can be transformed according to weather conditions and your demands. This means that you are in charge of the amount of light and shade you wish to receive, including protection from rain and humidity, while not giving up a refreshing summer breeze. Solara's patio cover is made entirely of aluminum (including the louvers, which open and close as you desire), and therefore requires no maintenance at all!!!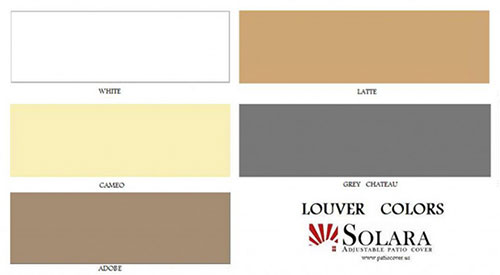 Lifetime warranty on posts and beams.
10 year warranty on louvers.
15 year limited warranty on manual operating system, pins, brackets, shafts, springs, and fiberglass components.
15 year limited warranty for motherboard, transformers, and remote control.

Click on the images below to view a larger display.


We Provide Services to the Following Cities, Towns and Surrounding Regions of CA: